This article applies to all paid subscriptions (Customer Data Studio is not available on Free subscriptions).
Spend Brackets Enrichment places Customers into either three, four or five categories based on the total value of their purchases, relative to other Customers.
A valid Purchase History Data Source must be connected to Distil in order for this Enrichment to be enabled. To get this set up, see our article on introducing Data Sources.
To see Spend Brackets Enrichment options, select Spend Brackets under the Enrichment view, within the Customer Data Studio. Spend Brackets Enrichment is enabled by default.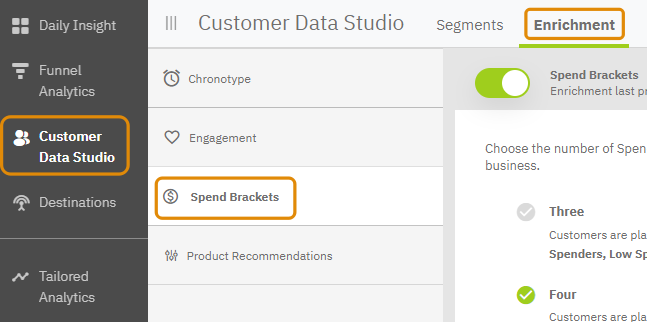 Options
Select the number of Spend Categories appropriate for your business.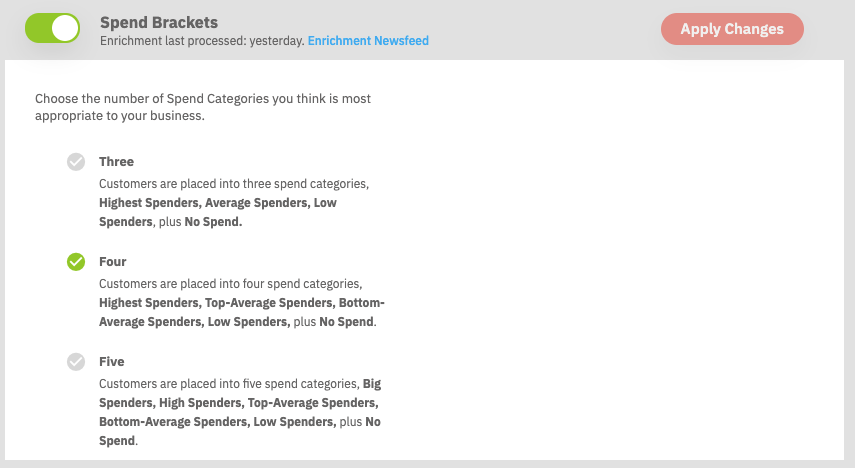 Attributes
Enabling Spend Bracket Enrichment creates a number of Attributes for each Customer. These are available wherever you see Attributes in Distil. They can be used to create Segments, appear in the Data Panel view, and can be sync'd to external data sources.
You can read the full detail of each of these in our article on Attributes. The Spend Bracket Attributes are:
Average Basket Value
Average Number of Different Products in Basket
Maximum Value of a Single Product Purchased
Number of days since the last Purchase
Number of Orders
Number of Repeat Products Purchased
Number of Unique Products Purchased
Percentile rank of Customer Spend
Spend Category
Total Number of Items Purchased
Total Number of Orders for the First Quartile
Total Number of Orders for the Fourth Quartile
Total Number of Orders for the last 180 days
Total Number of Orders for the last 30 days
Total Number of Orders for the last 60 days
Total Number of Orders for the last 90 days
Total Number of Orders for the last year
Total Number of Orders for the Second Quartile
Total Number of Orders for the Third Quartile
Total Value of Orders
Total Value of Orders for the last 180 days
Total Value of Orders for the last 30 days
Total Value of Orders for the last 60 days
Total Value of Orders for the last 90 days
Total Value of Orders for the last year
Variety Score