When you first take out your Distil subscription, you'll be sent an email explaining how to log in for the first time. You will be given an Admin role, meaning that you can invite additional users to the Distil platform and manage their permissions.
If you subscription includes access to the Analytical Portal, then you'll need to send us a request to add new users to the Analytics Portal. See the section below explaining this in more detail. Note that this only applies to the Analytical Portal, you can manage users in the Distil platform without contacting us.
Managing Users in Distil
Click the Settings icon in the bottom left of any Distil view, and then click Users in the top menu.
If you have Admin permissions, then you will see the Manage Users and Manage Invites menu options towards the top of the page. If you are looking to view and edit your own profile, read our guide to Your User Profile.
The Manage Invites panel shows all invitations that have been created for new users to join the Distil Account. The list of users includes name, role, email, and whether the invite has been accepted, includeing the accepted date. If you have a large number of users, you can use the search bar at the top to sort results and search for individual users.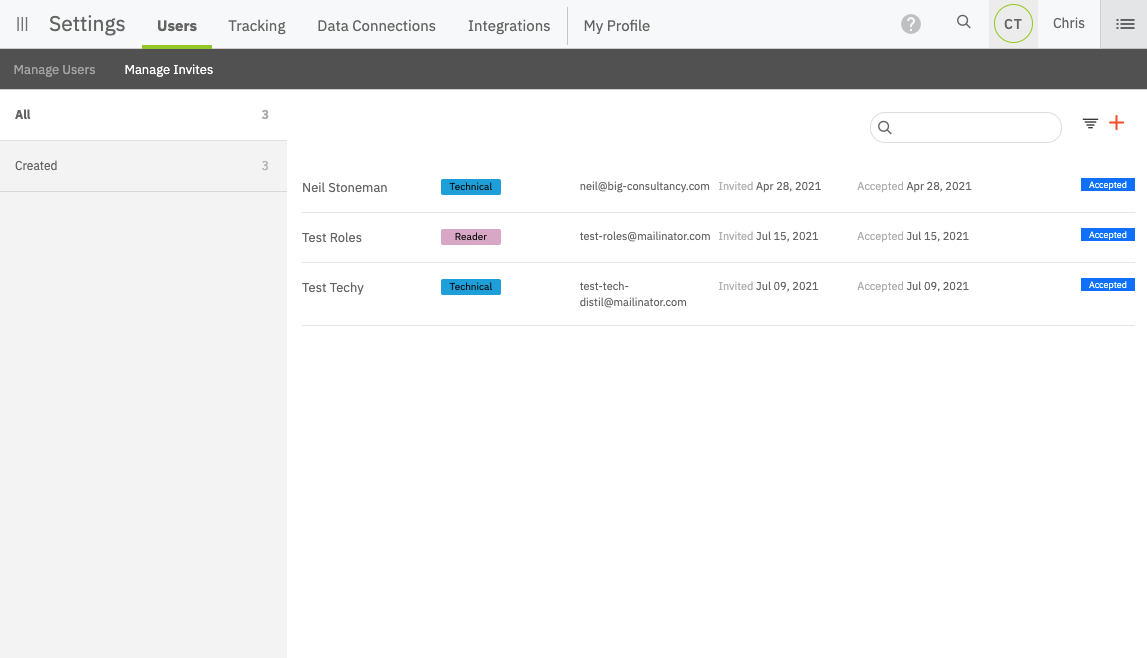 To invite a new user, click the red plus "+" in the top right corner of the panel. Enter the user's name, email and role into the form and click Send Invite. Distil will send an email to the user with a link to login and set a password. Invitations expire after 24 hours, however you can re-send an invitation as many times as needed.
Managing Users in the Analytics Portal
To add or remove Analytics Portal users, send us a request with the names, and email addresses of the users you want to add, delete of change. Tell us what you want to do: create a new user, delete an existing user, or change the name or email address of an existing user.
If you have asked for a new user, then we will email the new directly with their login details. If you've asked to delete or change an existing user, then we'll get back to you when we've fulfilled your request.