Ahhh Monday. The start of a new week. Time to get everyone down to business and focused on the week ahead. This analytics card is all about making sure everyone in your team is up to speed. How did the business perform last week? where are you in your sales cycle and forecast and what targets should you set?
This card also takes your latest data and gives you a forecast for your end-of-quarter and end-of-year figures. Are you up, are you down? What actions can your team take to drive your business growth?
If you're looking at this insight card via Distil, then you will see some additional information at the top of the page. For a guide to this information, read our article on Daily Insights. Remember that the information at the top of the page is current now (as you view the page), while the information in the card is current as of the date of the card.
Forecasting
Distil employs sophisticated machine learning algorithms that use your historical order data to understand your business, sales cycles and growth and build a bespoke sales forecast for your business. Predictive analytics are great for helping your team stay focused on the longer goals by doing the legwork and helping you understand how well you are performing overall.
Missing early signs of trouble, or letting an opportunity escape you is a significant risk to business, and it's why successful companies invest so heavily in predictive forecasting models. With Distil it's all built in, which is great for raising early flags so your team can respond.
For example, if sales are not performing as they should, it's good to know this early on so you can do something about it. And if you are doing really well the same is true, as it allows you to double down and find out why.
Distil analytics allows you to go beyond the numbers on these cards and dig deep into your forecasts so you can uncover what is driving the numbers and stay on top.
If you've come to us via the Shopify App, note that not all analytics features are available within all Distil subscriptions. Get in touch to find out more and book an appointment.
The Forecast comprises two parts; a short range forecast and a long range forecast.
Short Range Forecast
The short-range forecast looks at the upcoming week in order to show your team what to expect based on your sales cycle. Is it likely to be a strong week? Or a quiet one?
This information can be used to help strategize how the team should attack the week. If it's a quiet week you may want to scale back some marketing spend (or increase it?). But if it's a strong one, your teams should be on it, ready to maximise the opportunity.
Long Range Forecast
Sometimes it's hard to see wood for the trees. The long-range forecast is designed to give your team the bigger picture and extract them from the weeds. How are the actions being taken now going to affect your end of year profits?
To this end, the long-range forecast predicts the next 4 quarters and gives you an end-of-year forecast. The forecast is run twice a week by combining your historic sales data with up-to-the-minute business performance. So if something happens to your sales, for better or worse, it will be flagged quickly enabling your team to respond - digging into the data using Distil Analytics and putting that insight into action.
Charts in this Card
Last week's ranking
Bringing out the competitive spirit in your team is a great way to drive performance. This chart shows how the previous week's sales figures (Monday to Sunday) ranks against the previous 20 weeks. Can you stay top of the charts?
Upcoming Weeks Forecast
Some businesses have strong sales at the weekend, and some during the week. This can change during the sales cycle. The short-range forecast looks to see if there are any indicators in your historic sales that predict how your week is going to shape up and allow you to plan accordingly.

12-month Forecast
This chart shows a 12-month sales look back and 12-month look forward using the long-range forecast. It's a great way to see how your business is expected to perform given your recent relative sales figures - fantastic for board reporting and resolving any issues early.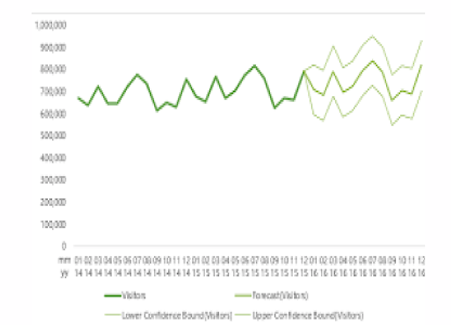 Metrics in this card
Metric

Description

Sales Last Week

The total value of sales made in the last week. Monday to Sunday.

Orders

The count of Orders. An Order here is a "checkout". I.e. it can contain multiple items. Metrics by line item are available via the Distil Analytics portal.

Customers

The number of Active Customers in the last week, (Monday to Sunday). An Active Customer is someone who has placed an order or a returning Customer whether they have placed an order or not.

Customer New vs Repeat

The percentage of Customers in your store last week (Monday to Sunday) who were New vs Returning.

Last week's Sales Forecast

The sales predictive forecast from last week. Did you beat the forecast?

Average Order Value and 12-month Average Order Value

The Average value of all Orders placed in your store last week. This is compared to your 12-month average. Are you up, or are you down?

Week Ranking

Let's get competitive. How did last week (Monday to Sunday) compare against the previous 20 weeks?

This is based on total sales made.

Forecasting Metrics

Upcoming Weeks Forecast

A prediction for your total Sales for the upcoming week (Monday to Sunday) using the Short Range Forecast.

Growth on Last Year and Weeks Ranking Prediction.

The YoY growth as a percentage being used as a key metrics in the sales forecast. This is then extrapolated to show you how the week would compare with the same week last year, and where that would place you in the 20 last week's ranking.

Can you beat the ranking?

End of Year Forecast and change from last week's End of Year Forecast.

Using the Long Range Forecast this shows the current prediction for your end of year. Your Year End is set in the Settings part of the App.

Your Long Range Forecast is updated each week using your latest business performance. The difference between last week's Forecast and this week's forecast is shown below.


Working across your business to beat the forecast means your business growth is increasing, so this is a great metric to be driving. You can get deeper insights across business performance in the Distil Analytics portal; for example marketing, product and customer quality.