This article covers installing and configuring the Shopify Business Analytics App from within your Shopify Store, as well as accessing Distil.
We also have another Shopify app that creates and tracks month revenue forecasts. This is our Shopify Revenue Forecast App, and you can read all about it here.
Before you start you will need to set up your Shopify Store. You will also need a Shopify user account with permission to install apps in your Store (this is the Manage and install apps and channels permission). If you are the store owner then you will already have this permission. If not then you will need someone with an Admin role (in Shopify) to grant you this permission.
Before you install the app, it's important to understand that because Distil needs data to reveal insights, your Shopify Store will need $5,000 in sales over the past 6 months before you can access Distil. If you haven't yet reached this threshold, you can still install the App - Distil will spring to life when you have enough data.
Install the App in Your Shopify Store
Log into your Shopify Store, and click Apps in the bottom left. Type distil ai business analytics in the search bar in the pop-up window, and then click Search for "distil ai business analytics" in the Shopify App Store.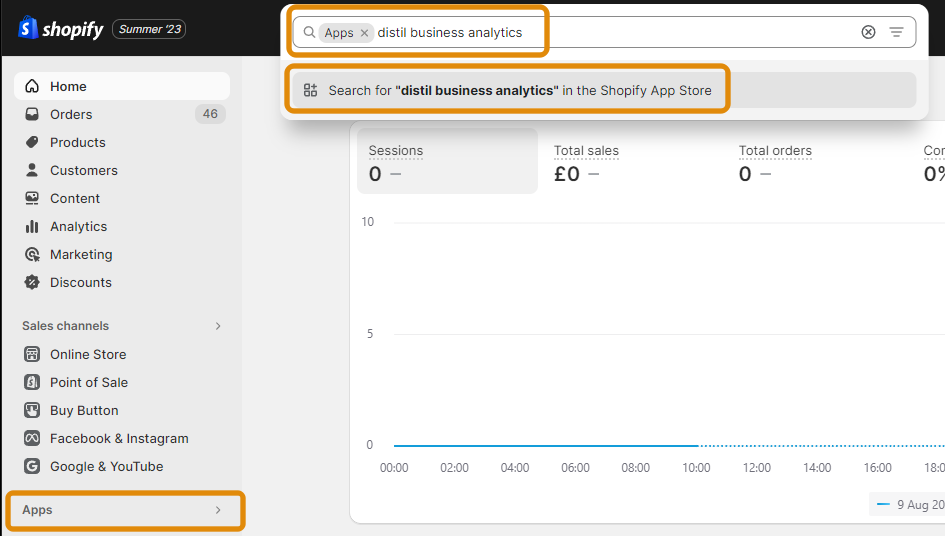 On the next page, select the Distil App. Follow the prompts to install the App in your Store.
The App icon looks like this:

Access Distil
Once you've installed the App, you can access your Daily Insights from within your Shopify Store by navigating to Apps > Distil: AI Business Analytics. Click the pin icon to pin the Distil App to your Store navigation pane for easy access.
If you don't see any data here it may be because your Store has not yet reached the threshold to activate Distil: $5,000 of orders in the past 6 months. It's useful to know that to count towards this threshold, the orders must be marked as paid and dispatched.
The Daily Insights view within Shopify is only a small part of the Distil platform. To explore all our other features you will need to log into the Distil platform itself. To do this, login to Shopify and navigate to Apps > Distil: AI Business Analytics, and then click the Login to Distil button on the top right.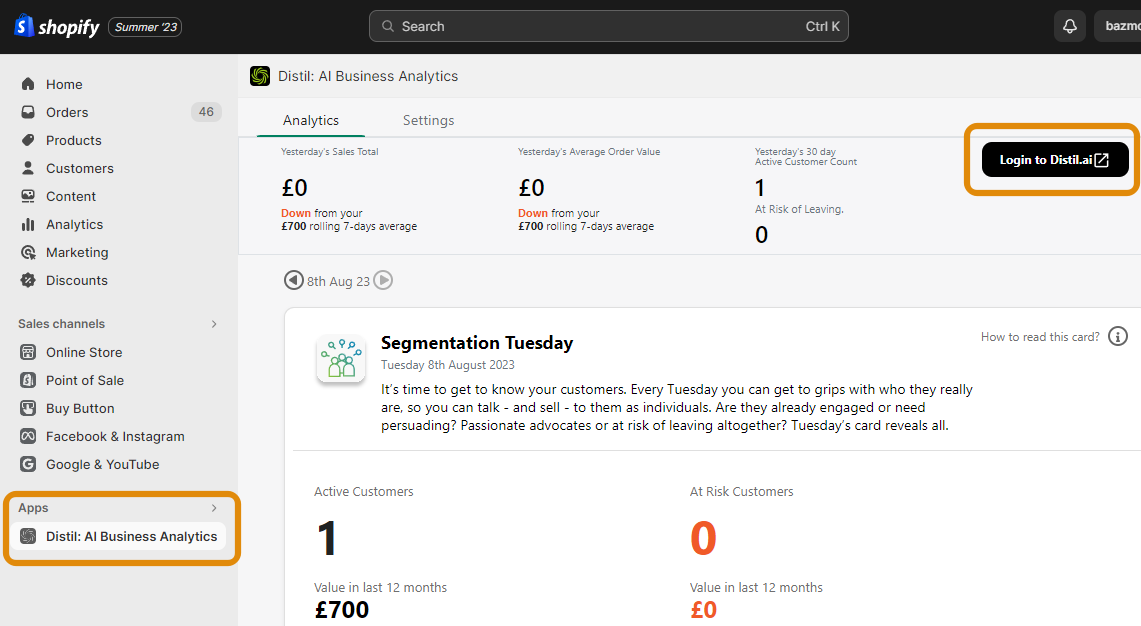 When you installed the App, a Distil Account was automatically created for you. When you first login to Distil you will need to follow the prompts to update your password.
Once you have logged into Distil for the first time, you can access the platform either through the button in the Shopify App, or by going directly to the platform at https://data.distil.ai/.
You can see your Shopify data in Distil by navigating to Customer Data Studio > Segments > Data. Click the Shopify tab to see the data that has been brought in from your Shopify Store.
If you're new to Distil, we recommend getting started with our How It Works article.
Set Up Tracking
To gain full value from your Shopify integration, we recommend setting up Tracking as described in our article Tracking Setup: Shopify.
Choose or Update Your Distil Subscription
While the App is free, access to the Distil platform requires a subscription. If you've just installed the Shopify App then you'll be on our 30-day Free Trial plan.
To choose or update your Distil subscription, log into Distil and navigate to Settings > Billing Plans. If you need help choosing the right plan, you can always get in touch, we'd be happy to help.